After painstaking research and several gentle eargasms, our research team is still going back and forth on which sexy songs to highlight in this blog to transport our readers once again into the realm of fantasy and escape the daily grind. So we get it, the songs that we painstakingly chose have got to be as comforting as a much-needed hug, the greatest love song ever written around the globe, and exudes lust that hopefully brings you in the sexy mood.
Ear porn, as many Singaporeans call it, are geared towards getting things going in the bedroom. But we can't be the only ones obsessing about a dirty record. Throughout history (aside from sexy lingerie and scented candles), a soundtrack is all you ever need to break the same routine every time you and your partner hit the sheets. Whether you are into innocent, post-work, stress-relieving sex, or pleasurable, erotic and wild lovemaking, sexy songs unapologetically become the key to the simple line 'music in the air, love in the bed'.
And we are not afraid to be the first to admit that getting things going in the bedroom can be as easy as falling off a log, if you just listen to our list of the very best classic makeout songs. So here are our 10 really sexy songs we love in the city right now:
#1 – Unchained Melody
It was 12.05a.m. when you cuddled with your partner, and suddenly both you and your partner heard the swooning, arpeggiated opening of the mushy Unchained Melody. And five minutes into playing the track, you had already a hot foreplay, intimate lovemaking and a few orgasms… sounds familiar? The luminous and raw vocal made another episode of the most delicious, musical climax you can indulge in all night long.
Now you can get access to the same type of audio erotica released by Uk-based audio erotica creator Harry. In this version, he gives you his deep voice, mellow British accent for that quivering, orgasmic experience. And the best part – it is completely free for ZaZaZu Club Prestige Members. Passion Members can get their fair share from the carefully curated ASMR playlist.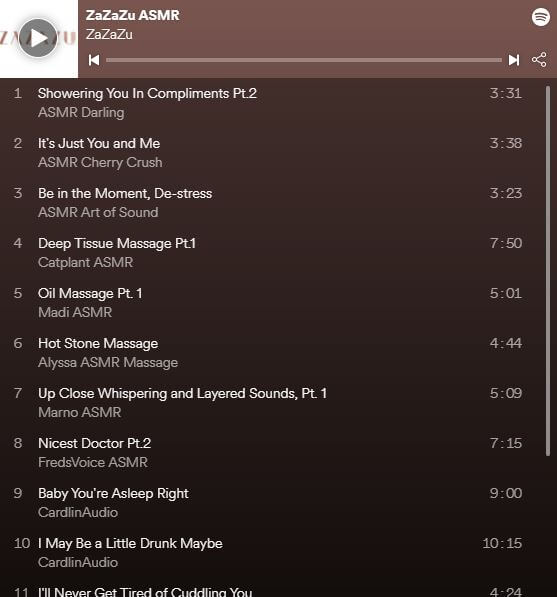 #2 – Feel Like Makin' Love – Speaking of sexy songs
Roberta Flack in this soundtrack always had a bit of a seductive and amorous air about her. So with this song you will be able to take your mind off everything and get a little crazy with your favourite person on earth. Her soulful delivery and sensual melody work wonders and it is the one thing you can count on as you initiate the first foreplay of the day. After all, what's better than both of those things together?
#3 – I Want Your Sex
Let's face it – when it comes to sex, our cultural story has painted women as completely uncomfortable initiating sex, but what is faster than saying "Have sex with me!" in the plainest request possible? This is why with a little help from George Michael it may make you feel less awkward and exposed as he addresses the subject in a straight-up invitation, while setting up the mood for your man.
#4 – Friendly Skies
"Whatever man you wanna do" – in favour of our theme and to our ears, this song's silky and sensual coolness is pleasingly out there. This classic is definitely the best sexy song to put you in a good mood if you don't know how to put your wild intentions across to your partner. The smooth tune in this song leaves a flutter in your heart and can have you swooned with delight until you "reach the peak". Besides winning best story in this list, the song also is a contender for most libidinous, arousing experience gotten from a song.
#5 – Lay It Down
Kicking off his lyrics with a statement of sexual nature like "Lay your head on my pillow", Lloyd manages to proclaim his sexual prowess and hopefully let the party begin. While some people may find this to be working wonderfully in their bedrooms, others may find his other request "Wrap your hair girl, tie it up tonight" to be more heart-thumping and sassy. It is not our fault if both work well for you.
#6 – Climax
While far from the dirtiest song, this soundtrack by Usher sure suggests a lascivious, dead-sexy record with its title. And that is a good thing which we appreciate. The song did not hide anything about how he and his special someone "reached the climax together". But all sexy aside, it is the simple repeating melody and sporadically intense voice that wins this song its title. A bona fide soundtrack to turn on when you are finally alone with that special someone.
#7 – Earned It
You might remember this from the Fifty Shades of Grey soundtrack. Sure, tonally this song sounds like it has a haunted voice quality when Weeknd first sang it, but sometimes you just got to not let your inner doubt get in the way of you inspiring your own "phantom" moans.
This soundtrack will definitely let your freak flag fly and show who you really are in your most intense desire. The conclusion? We can only imagine that Dakota Johnson got exactly what she wanted in the movie after listening to this song.
#8 – Adorn
I think we found it – sexy songs in R&B with the swag of in-the-club-like Usher. As impressive as the tune's description is, it is really the stately calm and languid voice of Miguel that makes us love this song. Also, points given for impassioned replays of syllables being worked up pleasingly. So yeah, can't wait to press play again.
#9 – Birthday Sex
In birthdays and sex, we find birthday sex. Jeremih presents "Birthday Sex" as a thoughtful cue that celebrations alone are not enough, we should be looking forward to a dirty play with our partners on this special day. His good wishes are heartfelt.
#10 – I'll Make Love To You
What better way to end this list with "I'll Make Love To You" by Boyz II Men. The song tied the record set by Whitney Houston's "I Will Always Love You" in 1992. Twenty seven years later, this song remains one of the best contenders for sex-soaked lyrics.