Every woman has her own idea of which foods may increase vitality or be associated with health and wellness. Some of these foods were discovered from the ancient times and have been through good science to support them – for example, the aged old traditional turmeric and ginger tonic from the ancient Java times as well as ginseng have been clinically shown to improve one's health and vitality.
Since these tonic foods also help with boosting low energy and weak immune systems, their use has been made extensive into those of modern health shots and tasty concoctions. That being done, many women can now reap the benefits of these tonic foods by including a cup of these tonics in their diet. This blog specifically looks at four powerful tonic concoctions that you can never get enough of, from hot teas to refreshing bubbly beverages, to wake your senses and boost your vitality.
#1 – Turmeric
Traditionally used in Asian food as the main spice in curry, turmeric can also double up as a tropical fun cocktail in an Indonesian-styled juice known as the Jamu Tonic. This tonic is made by blending turmeric and ginger together before straining them and adding some honey, lemon and coconut juice. The mixture is then brought to a simmer for a more concentrated flavour. Likened to a golden health elixir, Jamu Tonic is beneficial for women and is also readily available here in Singapore (which you can pick up @jamu.tonics). While you are there, enjoy their 500ml Jamu Tonics at a special rate, discount for Prestige Members only.
The high curcumin content in turmeric seems to help in the management of oxidative and inflammatory conditions. So, if you have conditions such as metabolic syndrome, arthritis, anxiety, and hyperlipidemia, a turmeric is one of those tonic foods that can effectively relieve these conditions. You can reasonably take this every day if you are a fan of warm and bitter tonic foods. You can make fresh Jamu Tonic or buy them in the nearest store and drink them every morning on an empty stomach. With this routine in place, you can almost guarantee a better quality of life with pain-free joints and a lot of outdoor activities.
#2 – Ginger
Whether you just need a weight-loss-friendly food or a fix for chronic indigestion, ginger is a tonic for you since ginger has the potential to improve digestion or restore ideal weight. It may also fight off germs, illness, inflammation, and cancer-causing molecules, among other benefits. Taking a ginger tonic regularly is often recommended for busy women as a substitute for ginger supplements. But if you are already taking ginger supplements you can skip this tonic and opt for the next one in our list of refreshing tonics.
Don't forget to accompany this tonic shot with turmeric, carrots and some coconut water. You can blend ginger, turmeric and carrots together before straining them and adding some coconut water. Simmering it for about 20 minutes can bring out a more flavour-intensive tonic. Basically, you can choose to omit honey as the sweetness of carrots and coconut water makes this hydrating tonic shot taste well beyond sweet.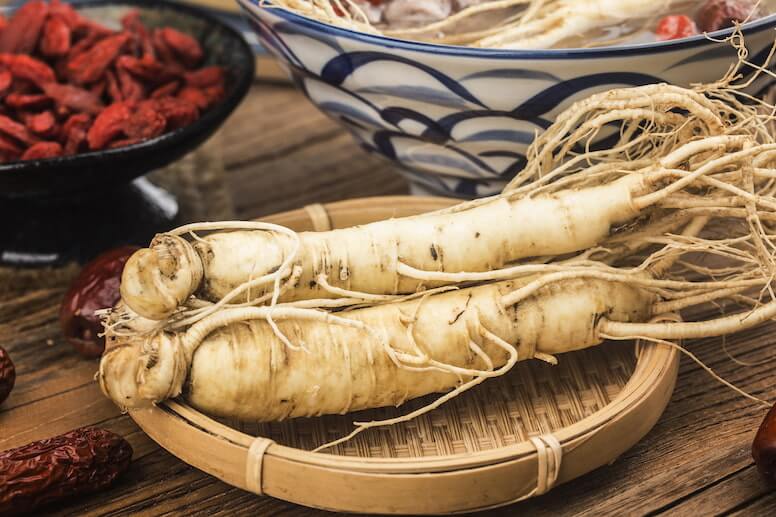 #3 – Ginseng
Swap out your cup of Joe for a cup of zesty, aromatic tea made with ginseng root and a generous amount of honey. This combination is known to effectively fight fatigue, give you an energy boost, and normalise the hormonal balance in females, contributing to its status as a very effective fertility tonic. Whether you simply enjoy a warm cup with only the ginseng root, or adding some honey into it (if you find the taste of ginseng too overpowering for you), you can be assured that both ways can make you enjoy the sensation of health and vitality inside and out.
As a general guideline, you should take around 1-2 grams of ginseng root daily in your tea. It's best to start with lower doses if you are newly acquainted with ginseng tea and then increase over time. If you are taking ginseng extract, look for a standard ginseng extract that contains 2-3% total ginsenosides, and consume it before meals to increase absorption and get the full benefits. Trust us, you will enjoy this restorative tea and will be able to feel the effect after eight weeks of taking it.
#4 – Cayenne pepper
If you are interested in tonic foods that bring on the heat, you should get acquainted with cayenne pepper. The capsaicin in cayenne pepper has metabolism-boosting properties. It helps to increase the amount of heat your body produces, making you burn more calories per day. For this reason, the lemon-ginger-cayenne-apple shot is likened to a wellness elixir to help you slim down, eat less and feel more satisfied.
This quick and easy concoction packs a punch of fruits like lemons, apples, as well as other tonic food like ginger. Simply cut the above and blend them in a blender. Then pour the mixture through a fine-mesh strainer before adding in honey. Top the serving with a sprinkle of cayenne pepper and you are on your way to a refreshing bubbly beverage that quenches even the fiercest summer thirst.
So instead of pricey supplements off the racks, try it for yourself today these four wellness tonics that you might have been missing. Coupled with good exercise and sensible eating, you will feel revitalised every day, and in the long term.